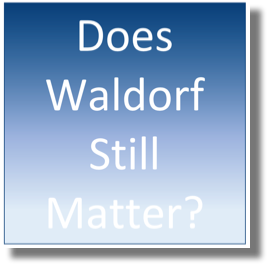 Five Lectures on Disruption and Destiny
by Eugene Schwartz
February 20 - 27
From December 25 through January 6 of 2021, Eugene Schwartz gave this series of lectures to teachers who were using the Holy Nights to assess their tasks and possibilities as educators. We were gratified by the number of teachers, parents, and administrators who joined us, and they, in turn, have shared their experience of the lectures with colleagues and friends. As a result, we have been asked to make the lectures available again, and we have agreed to do this. They will have a "limited run" during Presidents' Week, a time that most Waldorf schools use for professional development.

Over the past few years, a growing number of teachers have found it more challenging to ponder their destiny. The onset of pressures concerning vaccinations, masks, distance learning, DEI, gender identity, and other issues have complicated the teacher's task and her relationship to the philosophy underlying Waldorf education. In these turbulent times, many teachers may be wondering how much Waldorf education still matters — to them, personally, to the leadership of their school, and to the world.

With these challenges in mind, Eugene Schwartz offered these lectures. (Scroll down to read summaries of the lectures below.) If you are one of the thousands of teachers who has participated in any of Eugene's Online Conferences, you already know the combination of insight and practicality, as well as the depth and breadth that he brings to every aspect of Waldorf education.
Learn more about Eugene Schwartz.


The pre-recorded lectures will be available online for
$125
from
February 20 to February 27
. One may listen online any time during that period.
Registration is now open.

Registration is Now Open

The Online Conferences for
Grades One through Eight

June 1 - September 30
December 1 - February 28

With Eugene Schwartz, Roberto Trostli,
Meg Chittenden, and Raine Springer

Last summer hundreds of teachers took part in the Online Conferences.
Their evaluations were stellar, and we are pleased to offer this rich content, affordable tuition, and convenient format once again.
Whether you are a Class Teacher or Special Subject Teacher, scroll down to see the details about our courses.
How do the Online Conferences work?

The Online Conferences are not merely a substitute for "live" conferences. Rather, they are a re-imagination of what a teachers' conference can be. They utilize audio files of lectures, slideshows of student work, and training films that allow participants to closely follow a master teacher's detailed approach to Form Drawing or painting, games or songs, and demonstrations of Physics or Chemistry. Lecturers are not bound by the 90-minute limit of a live conference presentation, so they are free to take as much time as they need to range broadly and delve deeply into a subject. The online lectures are then divided into very digestible 15-20 minute segments so that any content that may have been missed can easily be found again. Imagine being able to "pause" and "replay" a lecture as often as needed, while taking notes on your word processor as you listen!

And how much do they cost?

No other teacher conferences offer as much content as the Online Conferences, and no other teacher conferences give teachers 14 days in which to participate at their own pace. With a tuition of only USD $450, these are the most affordable teacher conferences in the world. Teachers participate in the Online Conferences from anywhere in the world. If you can connect to the internet we can stream the courses to you. There are no expenses incurred for travel, accommodations, or meals. A teacher taking part in an Online Conference, rather than a live or Zoom conference at a training institute, can save anywhere from USD $250 to USD $1000.