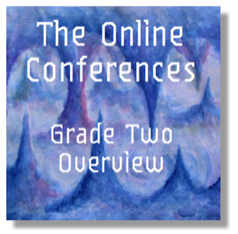 The Online
Grade Two
Conference
Contents




The Online Grade Two Conference

Click here to Register for Grade 2

Lecture and Presentation Topics
Participants will receive links to all of these lecture/presentations on the first day of the conference, along with a Password that will enable them to access the conference contents for the 14 days that they choose. They may listen to or view them in any order and as often as they wish during the 14-day conference period. Topics in black are audio sessions; topics in teal include video or slideshow sessions. Topics are subject to change.

Outline of Lectures

Part 1: The Second Grader Part 1
2.1: Second Grade as the "orphan" of the Waldorf grade school. The transition from One to Two. Division and polarization as the signature of Grade Two. [16:50]

2.2: Social challenges of Grade Two. Was all that work in Grade One to no avail? The threefold school year. Bullying and benign neglect. [15:10]

2.3: The battle of etheric and astral forces in Grade Two. The central importance of the temperaments in second grade. Forces of growth and their effect on consciousness. [17:05]

2.4: The role of the Guardian Angel in Grade Two. Where does the Guardian Angel reside, and what causes this being to withdraw? The role of divisiveness in second grade. [17:30]

2.5: Identifying children's temperaments, an important teacher skill in Grade Two. [20:10]

Part 2: The Second Grader Part 2
2.6: Proportions of the temperaments in the second grade classroom. Understanding and working with the melancholic child. [19:45]

2.7: Understanding and working with the phlegmatic child. [20:15]

2.8: Understanding and working with the sanguine child. [20:15]

2.9: The sanguine child, continued. Understanding and working with the choleric child. [20:15]

2.10: The choleric child, continued. Understanding and misunderstanding the temperaments. [20:15]

The Fourfold Human Being: A Dynamic Diagram [5:45]

Part 3: Working with Parents
2.11: The central importance of parent work has been virtually ignored until recently. The karmic connection of parents and teachers. Torin Finser's book, The Second Classroom. Differing perspectives on the meaning of "parent-teacher communication." [15:10]

2.12: The elements of the parent-teacher relationship: home visits, parent gatherings, meeting with one child's parents, and phone calls. Suggestions for a Saturday morning "Back to School" parent gathering. [15:00]

2.13: The Parent Evening. It should be mandatory, and the teacher must make it worthwhile. Recording the meeting. Beware the tyranny of "short announcements" by class parents and other parents. Stay in control of your time, and end the meeting at the announced time. Dealing with last-minute and urgent questions. [16:00]

2.14: The Parent Conference. Try to get both (or more) parents together in the meeting. Daytime or evening meetings? The question of professionalism. Comparing their child's book work and form drawings to others. The importance of actionable decisions and written confirmations. [16:15]

2.15: A new approach to child observation. Proactive work on end-of-year reports. "Meditating on the children in the class." [16:00]

2.16: The most important aspect of parent work. The short but cogent phone call. [17:15]

The Other Two-Thirds of the Class is a parent/teacher workshop led by Eugene Schwartz
at the Susquehanna Waldorf School in Marietta, PA. View both lectures here. [2:30:00]

Part 4: Preparation
2.17: The proliferation of sources available to teachers. The Online Waldorf Library. The gift of the Internet. Use the artistic skills you need to cultivate for your students as a means of self-renewal this summer. Researching the lives of the saints. [21:00]

2.18: Organizational capacities and etheric forces. The teacher's organizational skills as a foundation for the unfolding of children's memory forces. Einstein's economy of memory. Don't waste your memory's "storage space" on trivia; use a Day Planner, Day Runner, or digital device and save your inner memory for your class! The challenge of time -- an issue of colleagueship. [20:30]

2.19: The deeper significance of punctuality. Timeliness and incarnation. Punctuality in relation to challenges in dress and learning issues. The Michaelic nature of Waldorf education. Steiner's social/cultural expectations for the eight grades. Wasting time. [20:10]

The Beeswax Challenge: A Comparison of Stockmar & Filana Crayons [41:00]

Part 5: Form Drawing
2.20: In first grade, the vertical line was the center of many drawings; in grade two, the horizontal line takes precedence. The "cruciform" of the human being. [18:20]

Form Drawing Instructional Video 1 [37:15]

Form Drawing Instructional Video 2 [35:50]

Form Drawing 1: Student Work Slideshow [11:10]

Part 6: Teaching Reading
2.21: Dividing the children's reading experiences into a three-part structure through the school year. Reading from the board, and then from main lesson books. The children's first reader. Reading what we already have learned orally. Children who teach themselves to read. Parental anxiety about reading in this grade. [15:35]

2.22: Roughly two-thirds of the class should be reading by the end of second grade. The trend of early intervention for slow readers. What about patience? Four pillars of reading. The two primary obstacles to reading. [17:20]

2.23: Do proactive work with parents on reading issues. Anxiety is inevitable in second grade. Children who reverse letters. Children who are distracted by moving or color-filled letters. A slide show on the development of the alphabet shows a full range of "dyslexic" responses to letters. "Waldorf methods" alone may be effective with children who readily find their way to reading, but to help the non-readers we must understand the anthroposophical imagination of the human being. [23:10]

2.24: The pressing need for Waldorf teachers to study reading as a historical, social, and neurological phenomenon. Share your research with parents at every parent evening. Share with colleagues as well to counterbalance the pressures felt by many teachers to teach reading too soon. [12:15]

The Evolution of the Alphabet, a Slideshow

Teaching Writing in the Waldorf School, a YouTube video [4:30]

Teaching Reading in the Waldorf School, a YouTube video [4:50]

Part 7: The Fables
2.25: Even if you have never read a single Aesop's Fable, you probably feel that you "know" many of them. Aesop's work is one of the foundations of Western culture, and is the stuff of "conventional wisdom" and cliche. Dispensing with the "moral" of the fable. [16:05]

2.26: Who was Aesop? Whether he really lived as an individual or is a legendary composite figure, he is a reflection of the transitional time to which his name has been attached, the mid-7th to 6th centuries BCE. A look at his contemporaries. In subtle ways, the second grader is recapitulating this classical transition from sentient soul to mind soul. [18:50]

2.27: A look at some fables, remarkable for their laconic embodiment of the astral world. [15:10]

2.28: Teaching the fables. They can be used as pedagogical or therapeutic stories and taught when the occasion arises, or taught weekly during a dedicated extra main lesson. Steiner's story about the butcher's dog and the sheep dog. The need for discussion preceding some of the fables. [16:55]

Part 8: The Saints
2.29: Obstacles to teaching about the saints. Parents may have their issues with these medieval figures, but Waldorf teachers often struggle with the stories even more. [19:35]

2.30: The dual quality of the second grader's astral body. The "higher" aspect, imbued with selfless idealism, has at times been best embodied by the Catholic Church and its saints. The Russian film Burnt by the Sun presents a startlingly accurate depiction of the soul of the eight year-old. [20:20]

2.31: Who were the saints? Part One. To answer this simple question we must explore some of the most complex aspects of Rudolf Steiner's esoteric research. The principle of "Spiritual Economy" as a force in the evolution of Western culture. The mission of the higher bodies of Jesus of Nazareth. The effect of the etheric copies. [19:00]

2.32: Who were the saints? Part Two. The effect of the astral copies. "The wind bloweth where it listeth . . ." The consequences of spiritual development, East and West. [18:50]

2.33: The saints and the temperaments. Working with saint stories to work with children's temperaments. The melancholic saints. [17:00]

2.34: Saint stories for the phlegmatic and sanguine temperaments. [17:55]

2.35: The choleric temperament is surprisingly strong among the saints. An example. [18:35]

2.36: A list of saints whose lives should be recounted to second graders, and the reasons why. Longer stories and the "three day rhythm." [17:55]

2.37: Significant saints, continued. The modernity of many saints. [23:15]

2.38: Saints and animals. Several saints who embody the "higher astral" nature, and one saint linked to etheric forces. Potential for disharmony among the higher bodies. Ambivalence can live in saints' stories, too. [24:15]

Part 10: Arithmetic
2.39: The crucial importance of arithmetic in Grade One. Helpful sources: Jamie York's Making Math Meaningful and von Baravalle's Mathematics and the Waldorf School Plan. [19:20]

2.40: What foundation did you lay in Grade One? Most children should be comfortable with simpler multiplication tables, counting, number facts, the four operations, and mental arithmetic. Importance of review. [14:35]

2.41: Mental arithmetic and "number facts," both essential elements of Grade Two arithmetic. The math main lesson book. The horizontal element in Grade Two; place value. [18:50]

Teaching Grade 2 Expanded Notation Instructional Video [34:10]

Part 11: The Path of the Teacher
2.42: The Teacher's Path part 1: Care and nurture of the physical and etheric bodies of the teacher. Health and memory. [17:30]

2:43 The Teacher's Path part 2: Care and nurture of the teacher's astral body 1. The life of relationships in and around the school. [19:45]

2:44 The Teacher's Path part 3: Care and nurture of the teacher's astral body 2. The life of relationships in the family. [13:00]

2:45 The Teacher's Path part 4: The work of the Ego. The inner life of the teacher. [17:40]

2.46: The Teacher's Path part 5: Rudolf Steiner's First Pedagogical Law. "Degrees" in modern education and their antecedents in the Mystery Schools. Working with the higher members of the teacher to advance the child's development. [13:55]

Part 12: Painting with Patience
"Wet-on-wet painting" has become the dominant watercolor method in the Waldorf grade school. In this video, Eugene expresses strong reservations about the appropriateness of this method for children, and presents an alternative approach. He lays out the materials needed and demonstrates the method in step-by-step films that are the first of their kind. Please view the film Patience with Patience first. It serves as a foundation for the film Painting with Patience in the Primary School.

Painting with Patience Instructional Video [40:00]

Painting with Patience in the Primary Grades Instructional Video part 1 [54:15]


Slideshows and Instructional Videos
(Also listed above with the relevant lectures)

Form Drawing 1: Student Work Slideshow [11:10]
Grade 2 Language Arts: Student Work Slideshow [36:30]
Grade 2 Arithmetic: Student Work Slideshow [15:40]
Teaching Grade 2 Expanded Notation Instructional Video [34:10]
Form Drawing: Student Work Slideshow [11:10]
Instructional Video: Teaching Recitation [29:30]
Instructional Video: Poems, Songs, & Games Part 1 [29:00]

Instructional Video: Poems, Songs, & Games Part 2 [46:00]

Form Drawing Instructional Video 1 [37:15]
Form Drawing Instructional Video 2 [35:50]
Painting with Patience Instructional Video [40:00]
Painting with Patience in the Primary Grades Instructional Video part 1 [54:15]
Painting with Patience in the Primary Grades Instructional Video part 2 [43:00]
Instructional Video: Teaching Arithmetic [35:00]


Resources and PDF Hand-Outs

Click on the links to view or download these helpful materials.


Grade Two Slideshows in Mandarin
These short slideshows of student work were created to help instruct the growing numbers of teachers and parents working in Chinese Waldorf schools.They present basic introductions to first grade skill sets.


The Second Grade Curriculum
A Block Rotation Guide by Eugene Schwartz.

Classroom Colors: Indications by Rudolf Steiner
A Diagram developed by the architect Rex Raab (in English)

Verses for the Lower Grades
Poems for the Primary Grades by Eugene Schwartz.

The Sun-Filled Cave
A First Reader for Second Graders by Eugene Schwartz.

The Cry for Myth
Introduction to "Why the Setting Sun Turns Red"

The Solitary Swan
A story from "Why the Setting Sun Turns Red"

What Happened to a Blade of Grass
A story from "Why the Setting Sun Turns Red"

The Moth's Story
A story from "Why the Setting Sun Turns Red"

Hanukkah and Advent: An Essay by Eugene Schwartz

Help from the Hierarchies
A lecture by Eugene Schwartz

The Hierarchies, a Guide for the Perplexed
A chart that may be helpful in understanding the nature of the Elohim/Spirits of Form.

Additional Lectures
Many of Eugene Schwartz's lectures on Waldorf education
and Anthroposophy may be downloaded from the
millennialchild.com website.

Waldorf Education for All
An in-depth look at Waldorf Charter schools in California. This film contains a wonderful
sequence in the Grade Two classroom of master teacher Justin Mederis at the Stone
Bridge School in Napa, CA.

Considering Waldorf
This documentary film about Waldorf education gives an overview of the Waldorf school
movement in the 21st century.

The "Model Body" by Broder von Laue, M.D.
The only in-depth study of this important aspect of child development. In German, with an abstract in English.

Playing Steiner Says by Stephan Sagarin
An outspoken and humorous look at the shaky foundation on which so much of Waldorf tradition is based.

Research about Homework
Although homework may not be an issue in your school at your grade level, it looms right around the corner.
Here are links to cutting edge research about the value of homework.

Rudolf Steiner Course Excerpts
If you wish to go more deeply into some of the themes addressed in the Grade Two lectures, we invite you to
listen to some lectures given by Eugene Schwartz in his course, Rudolf Steiner: The Man, The Age, The Path.


The Nature of the Human Being
We look at the "fourfold" and "sevenfold" constitution of the human being as described and examined by Rudolf Steiner in myriad books and lectures. This group of lectures can serve as a foundation for exploring all of the other sections of this course.
SC01 The Physical Body [14:45]
SC02 The Etheric Body [16:19]
SC03 The Astral Body [14:44]
SC04 The Human Ego [19:55]
SC05 The Sentient Soul [20:49]
SC06 The Mind Soul [11:12]
SC07 The Consciousness Soul [13:44]
SC08 The Spirit Self [22:48]
SC09 Life Spirit and Spirit Man [18:48]


The Spiritual Hierarchies
Although the Hierarchies are a mainstay of Christian theology and iconography, Steiner spoke of them
as active in all world religions. His expansive picture of the activities of the hierarchical beings portrays
their intimate and dynamic relationship to human life and evolution.
SC10 The Third Hierarchy – The Angels, part 1 [16:17]
SC11 The Third Hierarchy – The Angels, part 2 [15:47]
SC12 The Third Hierarchy – Archangels & Archai [15:01]
SC13 The Second Hierarchy – Spirits of Form, Movement, & Wisdom [18:28]
SC14 The First Hierarchy – Thrones, Cherubim, & Seraphim, part 1 [17:21]
SC15 The First Hierarchy, part 2 [14:11]
SC16 The First Hierarchy, part 3 [15:06]